We are delighted to offer a wide variety of trusted services to our landlords throughout Bolton & Swinton. We understand that letting your property to the right tenant is essential and with our knowledgeable and experienced team we know we are the right letting agents for you covering Swinton and Bolton as well as the surrounding Manchester areas
Why Us?
We have over 10 years' experience in lettings throughout Bolton & Swinton and the surrounding Manchester areas. Our honest and current approach has earned us a reputation to be proud of. Not only can we find the perfect tenants for your property, we can help guide you every step of way. Hassle free letting! We specialise in avoiding those costly 'void' periods that are dreaded by all landlords and our record of finding suitable tenants is second to none.
Thinking of Switching Agents?
Our 'Agency Switch' serivce could not be simpler. It may seem dautning but leave it to us. Once instructed, we will contact your current agent and tenant to let them know we are taking over. We will then make sure that all the current legslation and checks are up to date to give you full piece of mind moving forward. Please don't settle for second best. You've invested a great deal in your rental protfolio and we are here to ensure you maximise it.
Landlord Fees
Below are our "standard" tariff fees charged to Landlords. These fees may be negotiable depending on individual circumstances. Please speak to a member of our staff should you have any questions.
Our table shows our most popular landlord services but, as always, we are as flexible as you need us to be so you can choose the services that are right for you.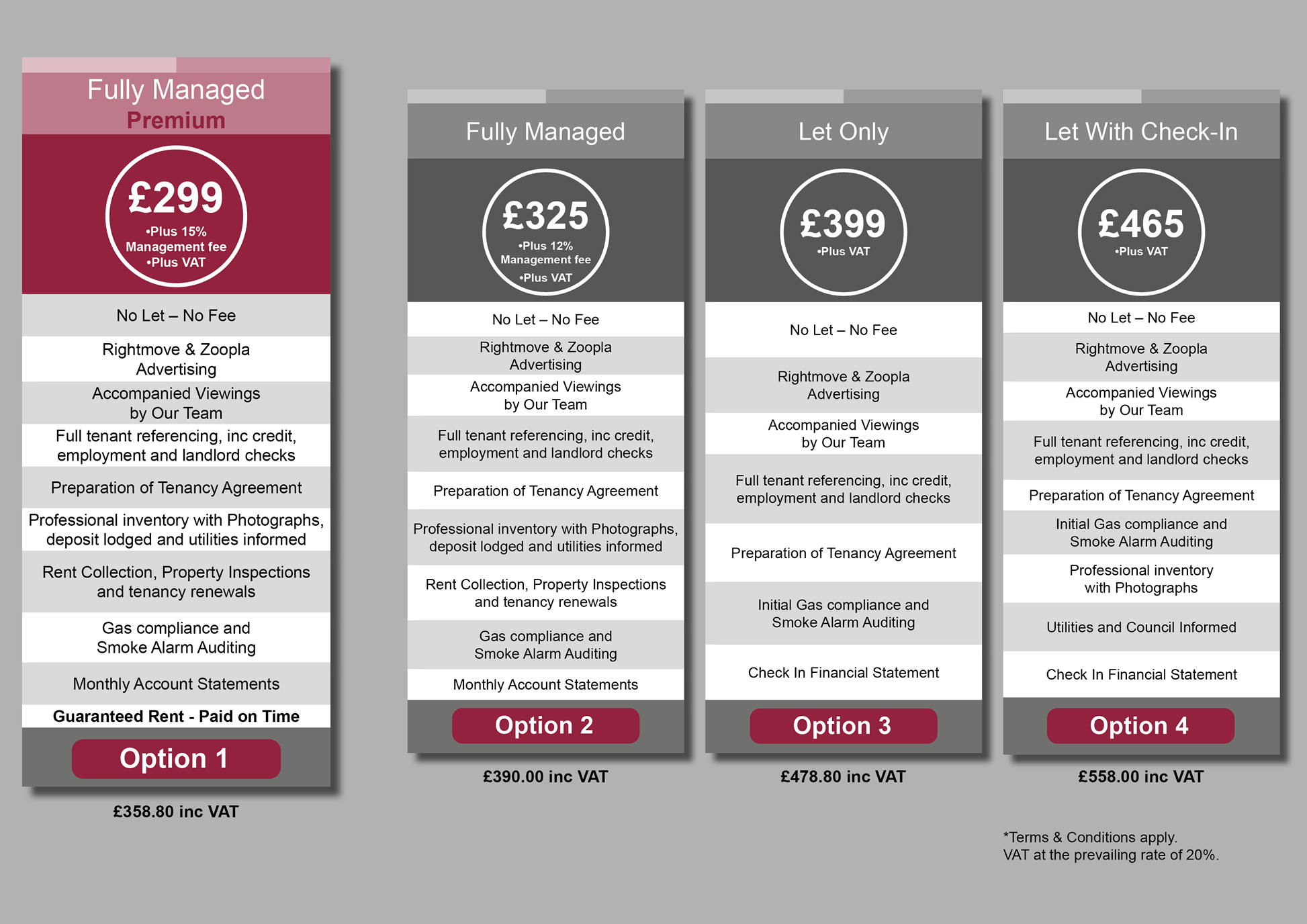 Additional Charges That May Apply Include:
End of Tenancy: The Agent will not carry out a final inspection of The Property on our Let Only or Let with Check In services unless instructed by the landlord. A final inspection can be conducted by Hannon Holmes, a fee of £75.00 + vat at the prevailing rate is applicable in advance. At the end of the tenancy, should the Agent be obliged to prepare paperwork to the Tenancy Deposit Scheme to defend any dispute raised, an hourly charge of £15 shall be levied.
Statements: Rent statements shall be emailed once rent is collected; any paper statements shall attract a fee of £5 per statement. The Agent shall be entitled to £5 for production of annual accounts for tax purposes.
Court Attendance: The Agent shall be entitled to £250 for any Court visit and £40 for each Legal Notice served.
Non Resident Landlords: If an approval number is not received and The Landlord resides outside the UK, The Landlord agrees that The Agent shall retain from rents a tax reserve equivalent to the basic rate of income tax on the rental income. This will be held in a client account and money due to HM Revenue and Customs will be paid on a quarterly basis. Providing this service will incur a charge at the Hourly Rate of £15.
Repairs: A 15% + vat administration charge will be added to contractor's invoices for any works instructed during any tenancy. The Landlord may use their own appointed contractors for work(s) to be carried out. The Landlord will be liable to settle any associated costs with using their own contractor(s) directly with the appointed contractor.